Consulting Activities and Consultancy in Environmental Fluid Mechanics and Hydraulic Engineering
by Professor Hubert CHANSON
Hydraulic structures and design
Hydraulic strutures
Energy dissipator; Floods; Sediment transport; Spillway; Weirs. More about Timber crib weirs ...
Culvert, fish passage in culvert. More on Fish-friendly culverts ...
Waterways; Storm waterways; Sewers;
Rubber dams; Diversion weirs; Rockfill channels. More about Rubber dams ...
Open channel flows - steady, unsteady transient flows (surges, bores, compression/expansion waves). More on Tidal bores ...
Water quality.
High-head spillway; Cavitation damage; Aeration slots; Tunnel spillways; Bottom outlets; Energy dissipators.
Stepped spillways; Drop structures; Dropshafts; Stepped cascades; Overflow stepped chutes. More on Embankment overflow stepped spillways, earth dam spillways with precast concrete blocks and gabion stepped weirs ...
Air entrainment in spillways. More about Air entrainment on chutes spillways ...
Hydraulic jumps and standing waves. More on Free-surface undulations in open channels: undular jups, undular surges, standing waves ...
Downstream water quality; Disolved oxygen content modelling; Re-oxygenation cascade.
Gas-liquid bubbly flows; Air bubble entrainment.
Plunging jets; Hydraulic jumps; Self-aerated flows; Open channel flows; Water jets.
Air lift pump design; Air bubble entrainment in sewers, dropshafts,at plunging breaking waves.
Air entrainment in spillway : Flow bulking; Drag reduction; Prevention of cavitation damage;
Air-water gas transfer; Re-oxygenation; Flow aeration.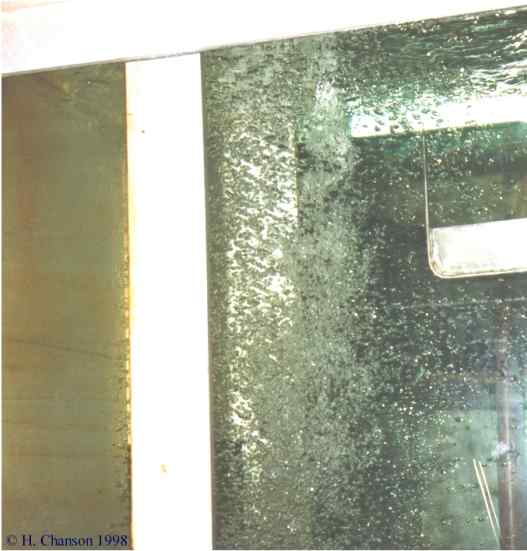 Air bubble entrainment by circular plunging jet (V = 3.3 m/s)
History of dams; Study of old dams; Study of Australian dams; More about a History of arch dams ....
History of spillways; Australian spillways; Roman spillways; More on Steel dams ...
Spillway refurbishment.
Roman aqueducts; Dropshafts; Steep chutes; Cascades. More on Hydraulics of Roman Aqueducts. Myths, Fables, Realities. A Hydraulician's perspective ...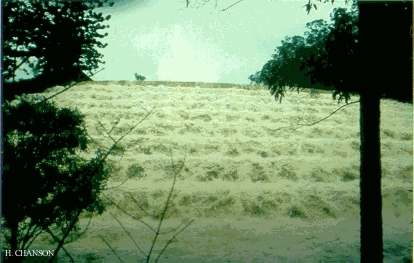 Gold Creek dam spillway (1890) in operation in 1996
Recent clients
Electricite de France EDF-CNEH (France)
Officine Maccaferri (Italy)
Sogreah (France)
Golder Associates, SNS Lavalin (Canada)
Mott Connell (Hong Kong)
Geo-Eng, Kinhill, Maccaferri Gabions South Pacific, Queensland Rubber, Terra Services, Water Solutions, Hydro-Tasmania HEC, Southern Rural Water Corporation, QLD Government Hydraulics Laboratory (Australia)