Some Hydraulics of Roman Aqueducts. Myths, Fables, Realities. A Hydraulician's perspective
by Hubert CHANSON (h.chanson@mailbox.uq.edu.au)
M.E., ENSHM Grenoble, INSTN, PhD (Cant.), DEng (Qld), Eur.Ing., MIEAust., MIAHR
Div. of Civil Engrg., Univ. of Queensland, Brisbane QLD 4072, Australia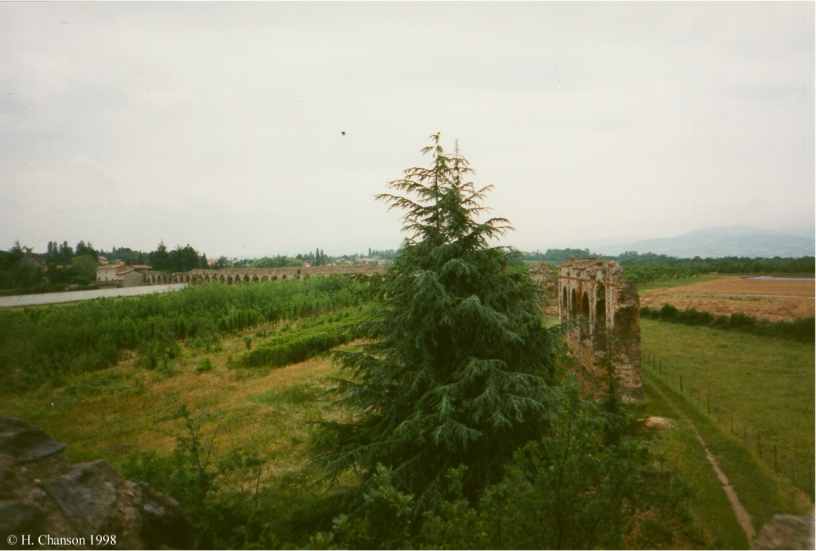 -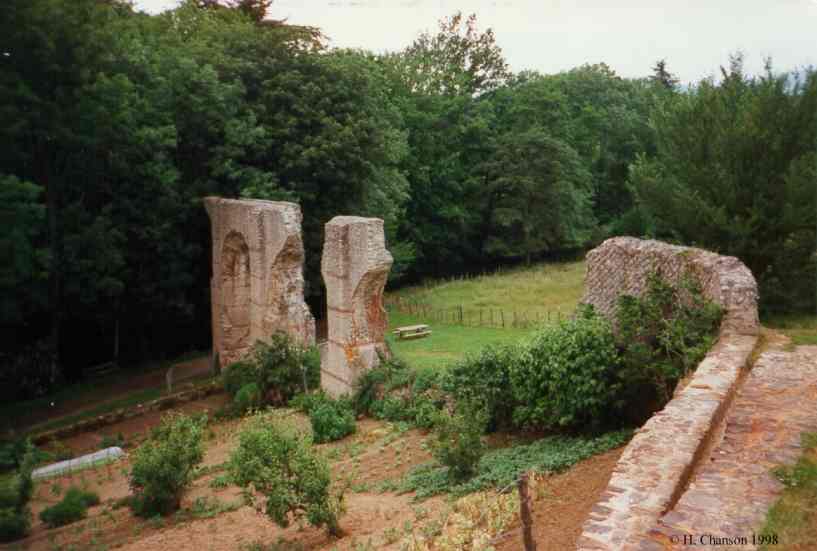 -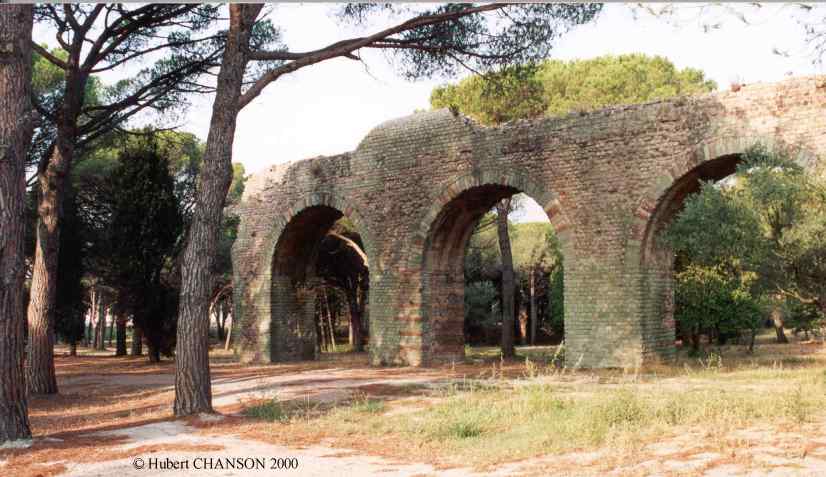 -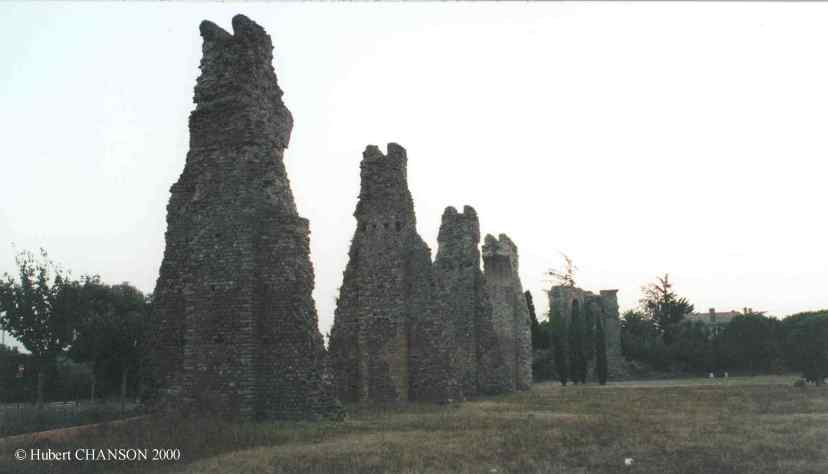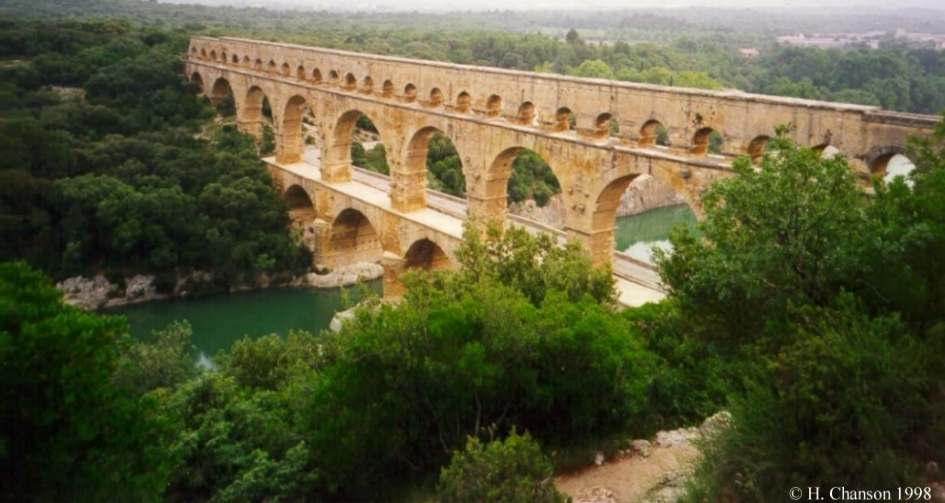 -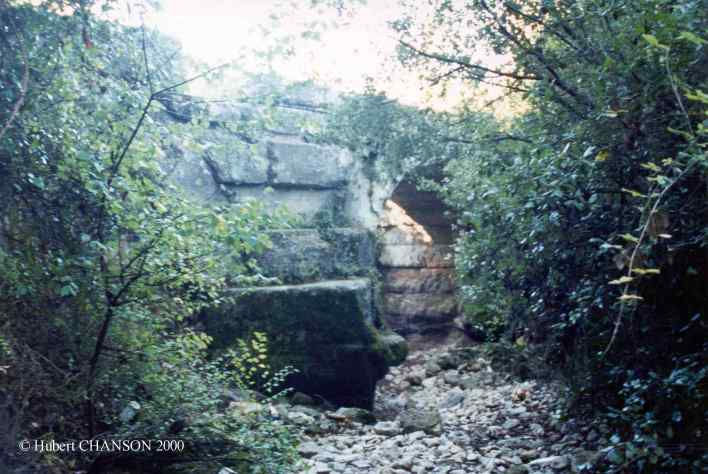 -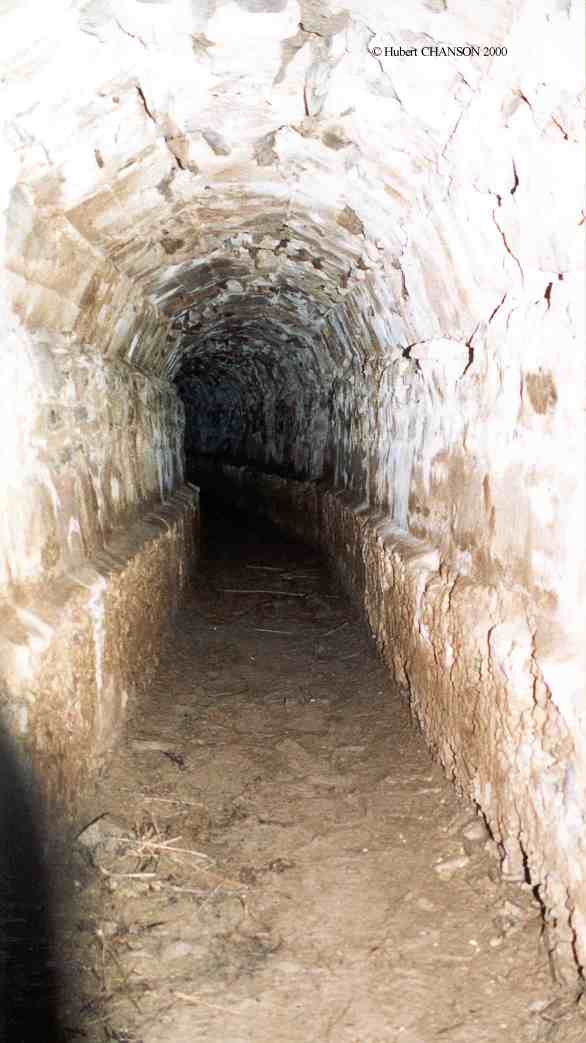 -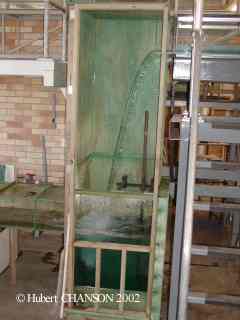 -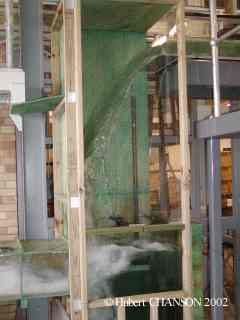 Presentation
Hydrology and operation of some Roman aqueducts
Overall, recent hydrological data show large variations in streamflows. During dry periods, the daily flow was typically less than 10% of the maximum discharge. While the flow rates during Roman times are unknown, it is plausible that hydrological variations were similar to present trends. This suggests that the aqueducts conveyed relatively low flows during dry periods.
Regulation Basins
Hydraulic calculations were conducted for two large regulation basins on the Gorze and Nîmes aqueducts. The results demonstrated that the undershoot gate openings had to be small : i.e., between 2 and 10 cm at Gorze, and between 3 and 12 cm at Nîmes (CHANSON 2000b,c). This type of operation implied fine gate opening adjustment systems to enable precise flow regulation.
Dropshaft cascades
Although most aqueducts had a mild slope, some steep sections were documented along few aqueducts (CHANSON 2000a, 2002a,c). Three designs of steep sections were commonly used: i.e, smooth steep chute, stepped chute and cascade of dropshafts. The latter is most unusual, even in modern times.
Discussion
Culverts
Summary
In conclusion, the writer is very impressed by the hydraulic knowledge, experience and expertise of the Roman engineers who designed the regulation basins, dropshaft cascades and culverts. They knew much more that most modern hydraulic engineers ! Yet we know so little of their background.
---

Footnotes
(3) Dropshaft = puit de rupture (in French) = Tosbecken or Fallschaft (in German) = pozo resalto (in Spanish).
(4) for example, the dropshaft cascades of the Valdepuentes aqueduct (Cordoba) were re-used by the Muslims (VILLANUEVA 1993).
(5) Hubert CHANSON inspected the Brisecou cascade in September 2000, and he studied the original manuscript of Jean ROIDOT-DELEAGE (1794-1878).
---

Detailed photographs
1- Gier aqueduct (Lyon, France) - Le Mornantay (Mornant) in June 1998 ; Chaponost in June 1998 : looking at the arcades from the head tank of the Beaunant siphon (i.e. looking toward the upstream)
2- Les Peirou dam (France 1891) in June 1998 - The present dam was built on the foundation of the Roman arch dam at Glanum [Ref.: CHANSON and JAMES 1998, Research Rep. CE157]. More about Arch dams ...
3 - Brévenne aqueduct (Lyon France) - Biternay in Sept. 2000, inside view looking upstream
4- Nîmes aqueduct, France.
Pont du Gard, Nîmes aqueduct, France in June 1998 - View from the right bank
Pont de Bordnègre in Sept. 2000 : inlet view, showing the bridge pier shaped to cut the waters. Culvert beneath the aqueduct between Combe de Sartanette and Combe Saint Joseph, downstream of Pont du Gard. Main culvert cell (0.8-m wide).
5- Fréjus aqueduct (France). Photo No. 1 : arches de Sainte Croix; Photo No. 2 : looking upstream; Photo No. 3 : looking dowsntream (14 Sept. 2000).

Roman dropshaft ('puit de rupture')
6- Roman dropshaft in operation : Recret model (Aug. 1998) [Ref.: CHANSON 2000, Am Jl Archaeology, CHANSON 2002, Jl of Hyd. Res.] Regime R1 : the usual operation mode in Roman aqueduct (photo dc/h = 0.06) ; Regime R2 : high risks of erosion and damage at the intake of downstream conduit (photo dc/h = 0.12) ; Regime R3 : at large flow rates, usual operation in modern sewer dropshaft (photo dc/h = 0.22)
7- Roman dropshaft in operation : Valdepuentes model (90-degree angled outlet) (Aug. 1999) [Ref.: CHANSON 2000, Am Jl Archaeology, CHANSON 2002, Jl of Hyd. Res.]
8- Full scale hydraulic model of Roman dropshaft. Drop in invert elevation: 1.7 m, pool depth: 1 m, shaft dimensions: 0.75 m by 0.76 m, flow rates: 5 to 70 L/s (CHANSON 2004, Jl Irrig. & Drainage Engrg). Regime R1 : photograph for Q = 7.6 L/s (July 2002) ; Regime R3 : photograph for Q = 67 L/s (Aug. 2002)

---

Related links
---

References and Bibliography

---

Acknowledgments
---
Hubert CHANSON is a Professor in Civil Engineering, Hydraulic Engineering and Environmental Fluid Mechanics at the University of Queensland, Australia. His research interests include design of hydraulic structures, experimental investigations of two-phase flows, applied hydrodynamics, hydraulic engineering, water quality modelling, environmental fluid mechanics, estuarine processes and natural resources. He has been an active consultant for both governmental agencies and private organisations. His publication record includes over 620 international refereed papers and his work was cited over 3,700 times (WoS) to 6,300 times (Google Scholar) since 1990. Hubert Chanson is the author of several books : "Hydraulic Design of Stepped Cascades, Channels, Weirs and Spillways" (Pergamon, 1995), "Air Bubble Entrainment in Free-Surface Turbulent Shear Flows" (Academic Press, 1997), "The Hydraulics of Open Channel Flow : An Introduction" (Butterworth-Heinemann, 1st edition 1999, 2nd editon 2004), "The Hydraulics of Stepped Chutes and Spillways" (Balkema, 2001), "Environmental Hydraulics of Open Channel Flows" (Butterworth-Heinemann, 2004), "Applied Hydrodynamics: an Introduction of Ideal and Real Fluid Flows" (CRC Press, 2009), and "Tidal Bores, Aegir, Eagre, Mascaret, Pororoca: Theory And Observations" (World Scientific, 2011). He co-authored two further books "Fluid Mechanics for Ecologists" (IPC Press, 2002) and "Fluid Mechanics for Ecologists. Student Edition" (

IPC

, 2006). His textbook "The Hydraulics of Open Channel Flows : An Introduction" has already been translated into Spanish (McGraw-Hill Interamericana) and Chinese (Hydrology Bureau of Yellow River Conservancy Committee), and the second edition was published in 2004. In 2003, the IAHR presented him with the 13th Arthur Ippen Award for outstanding achievements in hydraulic engineering. The American Society of Civil Engineers, Environmental and Water Resources Institute (ASCE-EWRI) presented him with the 2004 award for the Best Practice paper in the Journal of Irrigation and Drainage Engineering ("Energy Dissipation and Air Entrainment in Stepped Storm Waterway" by Chanson and Toombes 2002). Hubert Chanson edited further several books : "Fluvial, Environmental and Coastal Developments in Hydraulic Engineering" (Mossa, Yasuda & Chanson 2004,

Balkema

), "Hydraulics. The Next Wave" (Chanson & Macintosh 2004,

Engineers Australia

), "Hydraulic Structures: a Challenge to Engineers and Researchers" (Matos & Chanson 2006,

The University of Queensland

), "Experiences and Challenges in Sewers: Measurements and Hydrodynamics" (Larrate & Chanson 2008,

The University of Queensland

), "Hydraulic Structures: Useful Water Harvesting Systems or Relics?" (Janssen & Chanson 2010,

The University of Queensland

), "Balance and Uncertainty: Water in a Changing World" (Valentine et al. 2011,

Engineers Australia

). He chaired the Organisation of the 34th IAHR World Congress held in Brisbane, Australia between 26 June and 1 July 2011. He chairs the Scientific Committee of the 5th IAHR International Symposium on Hydraulic Structures to be held in Brisbane in June 2014.
His Internet home page is http://www.uq.edu.au/~e2hchans. He also developed a gallery of photographs website {http://www.uq.edu.au/~e2hchans/photo.html} that received more than 2,000 hits per month since inception.

More pictures of Roman waterworks are here ...
TECHNICAL INTERNET RESOURCES
More about a history of arch dams ... More about timber crib weirs ... More about steel dams ...
More about engineering failures ... More about rubber dams ... More about a tidal bore ...
More about the Formal Water Garden .... More about rapid reservoir sedimentation in Australia ...
More about Minimum Energy Loss culverts .. More about Minimum Energy Loss weirs ...

This page was visited : 12,453 times between 18-08-2002 and June 2012.
Last updated on 23/07/2012